All-Time Yankee Derek Jeter Says 2014 Will Be His Last Season
Derek Jeter, the New York Yankees shortstop who crafted a Hall of Fame career over 19 seasons with the legendary franchise said he would retire at the end of the 2014 season.
At 39, Jeter is among the most respected and accomplished players of his era.
"Derek called me this morning to tell me that he planned to retire following the season," Yankees managing general partner Hal Steinbrenner said in a statement. "In our conversation, I told him that I respected his decision because I know he put a lot of thought into it. I also let him know that I thought it was great that he was letting fans know now so they will have a chance to say goodbye to him.
"He is unquestionably one of the greatest Yankees ever. He has meant so much to fans, the organization, my father and our family. I'm glad we have this year to celebrate everything he has meant to us and all the great things he still stands to accomplish."
Here's the full statement posted by Jeter on his Facebook page: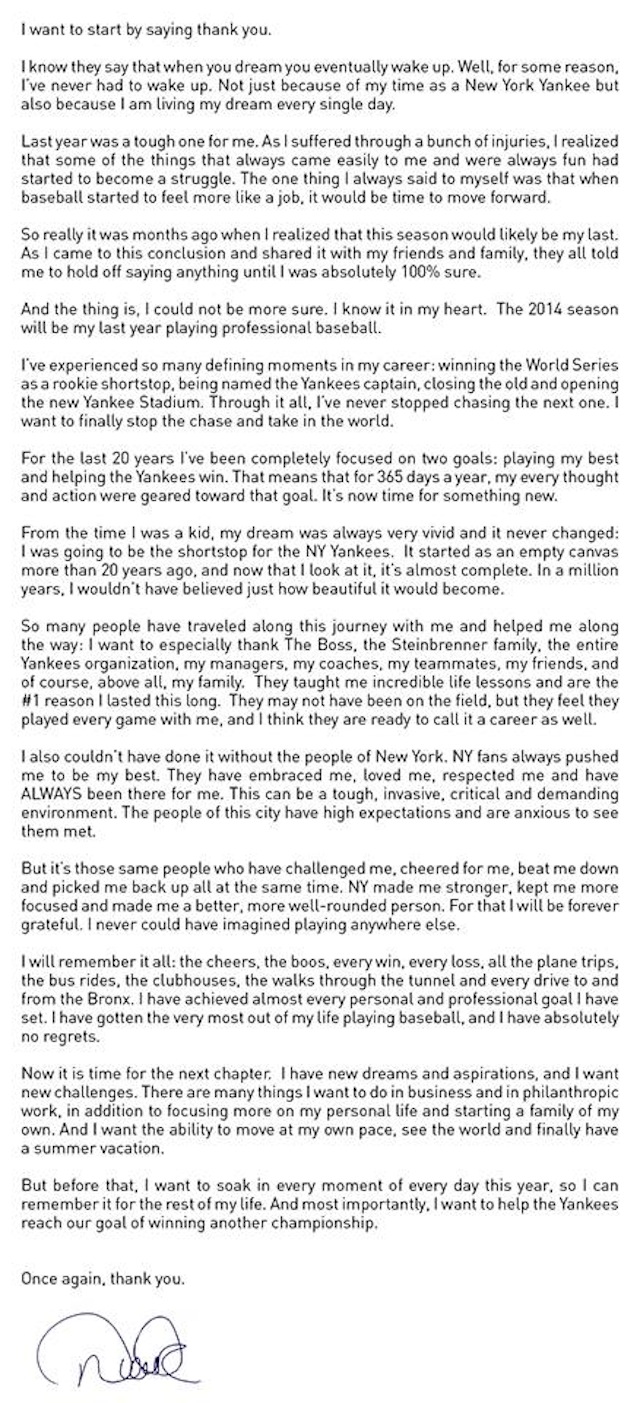 (Source: MLB Public Relations)
Jeter, age 39, enters the 2014 season having already established himself as one of the all-time greats. He owns a career batting line of .312/.381/.446 (117 OPS+) across parts of 19 seasons to go with 3,316 hits (10th all-time); 1,876 runs scored (13th all-time); 256 home runs; 348 stolen bases; 13 All-Star appearances; eight Silver Sluggers and five Gold Gloves. As well, he batted .321/.384/.449 in seven World Series and was named MVP of the 2000 Fall Classic.
"Derek Jeter has been a great representative of what the Yankees have stood for over the years," manager Joe Girardi said in a statement. "He has been a team player who has only cared about winning. He has also been a fine example both on and off the field over his long tenure as a Yankee. It has been a real pleasure to manage him and play alongside him."
"It has been an incredible honor having a front row seat for one of the great players of all time," said general manager Brian Cashman. "Derek has been a winner every step of the way. I am already looking forward to an exciting final chapter of his storied career."
Jeter led the majors in hits in 2012 but last season was limited to just 17 games after fracturing his leg in the 2012 ALCS.
Jeter is in the final year of the four-year, $60-million contract he signed prior to the 2011 season.
---