With a diverse and original sound that is getting much attention from the music industry, emerging talent Mic Ventress has a powerful voice that is a unique combination of his Southern roots and strong musical influences.
Drawing inspiration from the jazz music scene in New Orleans, combined with the influence of Michael Jackson and Motown, along with days of his youth spent singing gospel music in the church choir – Mic Ventress is stand-out R&B singer in the music industry that will definitely be shining in the spotlight soon.
If you haven't yet heard of this talented singer/songwriter – you will. Mic's powerful voice and original sound gives him the sultry vocals of an R&B singer, the perfect tone of a Hip-Hop artist, and the smooth sound of a Pop Rock star.
You might also recognize this emerging talent from the big and small screen in movies and TV series such as "Queen of The South," "Shadows," "Cloak & Dagger," "Love Birds," and "NCIS."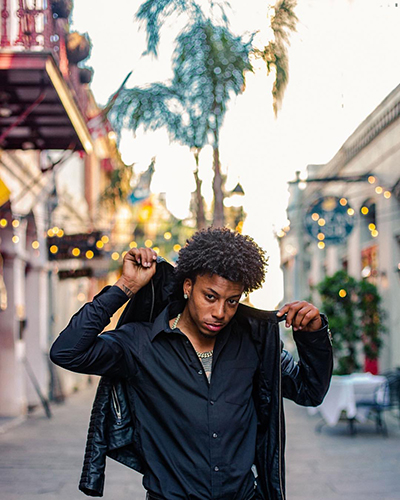 In addition, Mic Ventress has been opening for acts like Big Freedia, Trina, and Lyfe Jennings in cities from Philly to Atlanta and said that he is inspired by these artists in the music industry. "Opening up for those great artists for me, was just the incentive I needed to keep going because the level of the artists I've opened up for just keeps growing," said the indie artist. "Great crowds, great energy and they all gave me great advice."
Mic has been motivated during the pandemic and said he has used the time to find himself. He has been meditating, exercising, and jamming. "I turn the music on in my house very loudly while I sing and do vocal warmups," said the R&B singer.
The latest music from Mic Ventress is getting noticed by the industry and includes the recently released singles, "Giving Me Life" and also "Pretty Woman," which was inspired by the Julia Roberts film and is dedicated to all of the beautiful women of the world. Both tunes are available to stream on most platforms. Mic is also enjoying success from his single "I Like It," which has been popular on social media with fans as well as music industry peers.
The indie artist from New Orleans, who inspires to work with Kanye West in the future, is excited about his current project, an EP called "Not Friends" that is scheduled to be released soon.
All images by Jovan Hernandez