Meet The Founder of Kaleidoscope Beauty | Let's Talk Entrepreneurship & Why Kaleidoscope Beauty Is Bigger Than Beauty
Meet the intelligent entrepreneur Umutoni Thuku-Benzinge, founder of unique handcrafted statement Jewellery Kaleidoscope Beauty. Born and bred in London of African heritage the go getter launched the brand only two years ago. Creating the sustainable brand from her passion of striving to make a difference in the Kenyan community whilst supporting the disenfranchised. With philanthropy being at the heart of everything the brand does and showcasing the beauty of Africa. We discuss the story behind the brand and why this is much bigger than beauty…
First things first, can you tell us a little bit about the brand's beginnings? What's Kaleidoscope Beauty's story so far? 
Kaleidoscope Beauty is a sustainable brand showcasing the beauty of Africa through contemporary, hand-crafted, statement jewellery that's ethically sourced and empowering the disenfranchised. Launched in December 2018, with philanthropy at the heart of everything we do, all our pieces are ethically sourced in Kenya on the fringes of Nairobi, in a slum called Baba Dogo by members of the youth community. Our artisans have been able to turn their lives around from a life or crime, drug and alcohol abuse by developing skills that enable them to create a legitimate source of income.
As a woman, I know the power we have to turn heads, however I want to build a brand that does more than just that, I want the Kaleidoscope Beauty to influence hearts too.
Our jewellery is bold, edgy and quite daring, yet it's still important to me that all our pieces compliment the multi-faceted layers of African culture. Our strength, our resilience, our colourful and dynamic communities are uniquely represented in each and every piece that we design.
What is your career background and how has it helped you to create a business? 
I've recently left full time employment to pursue Kaleidoscope Beauty full time. Prior to this I worked in the IT industry for 6 years, my experience spanning from sales to post sales, account management and onboarding. From an educational perspective, my degree was in Economics and I can definitely say these experiences have contributed to me setting up a business. My degree in Economics helped me understand the principle of supply and demand, basic accounting and critical thinking. My experience in sales and account management helped me understand the importance of forecasts, the sales cycle, as well as softer skills such as communication for customer relationships and networks. In addition, helped me build my confidence when presenting my own brand and the all-important elevator pitch! I can deliver it in my sleep.
Describe the brand in three words for us.
Beauty for people – Purpose driven beauty.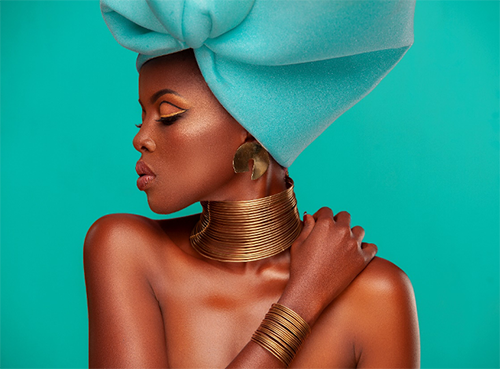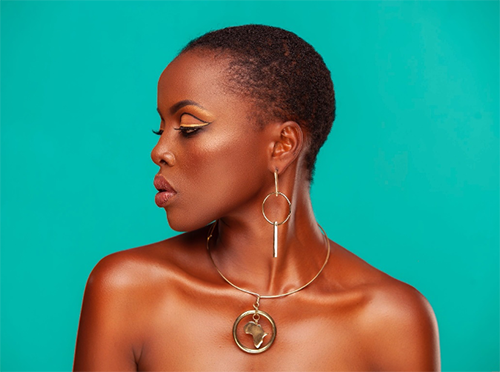 Can you tell us about the accessories and what distinguishes you from other Jewellery brands?
The Kaleidoscope Beauty accessories are hand crafted, bold, bright and make an impact in more ways than one. Created from locally sourced materials such as brass, beads and leather and precious stones, our products steer away from the use of plastic and where plastic may be used, it's upcycled. We use African, Kenyan influence and give it a contemporary twist for our international customer base. 
Our philanthropic mission is to empower the disenfranchised with particular focus on the youth community sets us apart from other jewellery brands. Kaleidoscope Beauty is about more than just the aesthetics, our artisans are talented young men and women from disadvantaged backgrounds, faced with the burden of multi-generational poverty, lack of sanitation and the harsh realities of life in the slums of Kenya. Given the right tools, and an opportunity for a career, our artisans are trained to create through beadwork and brass-work, which in turn creates job opportunities for them and a sustainable source of income. Ultimately, Kaleidoscope Beauty aims to alleviate poverty in Sub-Saharan Africa through our brand.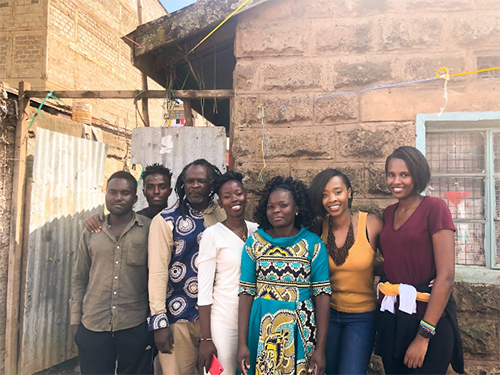 As the creative director behind the brand, what keeps you going? 
The biggest driving force behind my motivation is my goals to alleviate multi-generational poverty in Sub-Saharan Africa. Seeing the impact Kaleidoscope Beauty is having is very fulfilling and heart-warming. Job creation for our artisans in Baba Dogo, Kenya, collaborating with local talent e.g. models, make-up artists, photographers. Additional help within these communities, communities that are often overlooked. Sharing real stories, influencing real lives, building relationships, making an impact, that's what keeps me going.
Is there a particular moment within Kaleidoscope Beauty's history that you are particularly proud of?
Two moments stand out for me – making the first sale once the website launched, the order was from the US and not a family member or friend, this was an exciting moment as it gave me a glimpse of where the brand could go very early on. In addition, within 8 months of launching Kaleidoscope Beauty, we were featured in Forbes, that for me was surreal and gave me a boost that the Kaleidoscope Beauty story made sense, connected with people and that my initial vision was really taking shape on a global scale.
What has been the biggest challenge so far?
The first hurdle I had to overcome and was essential when sourcing my suppliers was quality control. It's important to me that as we change the narrative around Africa, our products are held to a high standard in terms of their finish, the intricate beading is neat, the designs are consistent. In addition to this communication can be a challenge but has improved significantly since moved away from the corporate career to focus on my brand.
As a pioneer within my field, the journey thus far has been exciting in the sense that when I think of the analogy of the route to success being a flight of stairs, I am at a stage where the stairs are appearing as I go. Not having a strict template to follow has been challenging at times yet refreshing in the sense that I literally carve out the KB route with the support of my team. Taking inspirations from books has been key to understanding the journey a bit better.
What advice would you give to individuals that want to start their own business?
Do your research into the industry you're entering, how it works etc. Carefully define your 'why' this will be key in keeping you motivated and solution focused because the entrepreneur journey isn't easy or straightforward. Be ready and willing to wear different hats, especially when starting you may be sales, marketing, accounting, web design, product fulfilment all in one. Build a team, people who you can trust and depend on to support you through your journey, people who are honest with you as you bounce ideas off them, not 'yes men'. Be disciplined, not all ideas when executed have the desired outcome, learn from these experiences, why they did or didn't work and use that insight in the future. 
Take risks, the extent of the risks has a number of contributing factors but risk taking is a big part of starting your own business.
If you could go back and give your younger self any piece of advice, what would it be?
I'd advise my younger self to keep building her confidence, be fearless in my pursuit of adventure, keep travelling, exploring and to not be afraid to stand out. Take myself out of my comfort zone and tell her to keep dreaming because although the dreams do not make sense yet, they have planted a seed that is growing and makes a lot more sense further down the line.
Click here for more on Kaleidoscope Beauty.
All images courtesy of Kaleidoscope Beauty
---